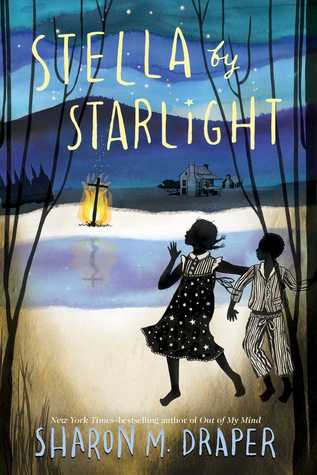 Stella by Starlight by Sharon M. Draper

When the Ku Klux Klan's unwelcome reappearance rattles Stella's segregated southern town, bravery battles prejudice in this Depression-era tour de force from Sharon Draper, the New York Times bestselling author of Out of My Mind.




Stella lives in the segregated South; in Bumblebee, North Carolina, to be exact about it. Some stores she can go into. Some stores she can't. Some folks are right pleasant. Others are a lot less so. To Stella, it sort of evens out, and heck, the Klan hasn't bothered them for years. But one late night, later than she should ever be up, much less wandering around outside, Stella and her little brother see something they're never supposed to see, something that is the first flicker of change to come, unwelcome change by any stretch of the imagination. As Stella's community - her world - is upended, she decides to fight fire with fire. And she learns that ashes don't necessarily signify an end.

-From Goodreads.com



I had really high expectations for this book: I loved Draper's

Out of My Mind

, I was excited to read a book dealing with the KKK, and I am a sucker for a great title and beautiful cover. I was hoping that this would be an awesome book to buy a class set of and teach. Unfortunately, I was disappointed. Now, it may just be me. Looking at Goodreads, I'm noticing that most reviewers gave it 4 or 5 stars. But for me, I found myself dragging to get through it, and more than once, rolling my eyes at the dialogue. I felt like the characters were one dimensional, and I often felt the dialogue felt forced and unnatural. Stella didn't seem to sound like an authentic little girl to me. I was also disappointed about the inciting event Stella witnesses that was teased in the book's description. I was hoping it would be something significant, maybe a nighttime clandestine meeting between a black and a white, or perhaps an act of violence against a black. Yes, I know it is middle grade fiction, but I was expecting some exciting, just toned down for the age group. Spoiler alert: The big event teased was that they saw the KKK meeting and burning a cross. Yawn. That being said, this is an important era in history that students need to be exposed to, and its definitely worth a read for teachers and middle school students alike. It just didn't do it for me.

Classroom Application:

Buy a copy for your classroom library, add it to students' independent reading lists, or get a small set for a Literature Circle/Book Club group on the theme of racism or that era of history. It's definitely worth a spot in your classroom, but I don't think it's the best novel to buy a class set of and teach. Recommended grades 5-8.